Orlando más allá de Disney
Además de los parques temáticos en Walt Disney World, Universal Orlando y SeaWorld Orlando, Orlando es hogar de una variedad de divertidas atracciones como parques acuáticos, parques de diversiones, museos de arte, interesantes tours, centros de ciencias, museos históricos, complejos de entretenimiento, jardines y mucho más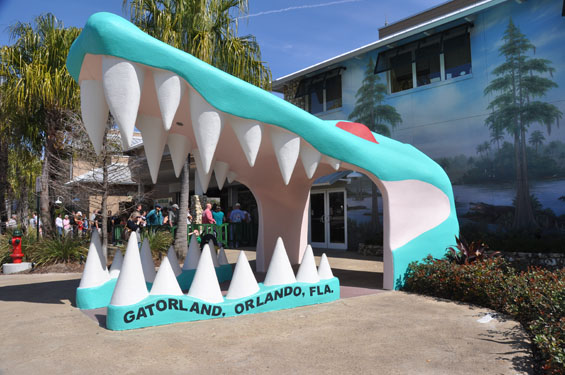 Gatorland
Los amantes de los animales también pueden visitar Gatorland, donde serán recibidos por cientos de cocodrilos y caimanes. Gatorland tiene una atmósfera divertida y familiar con programas educativos y tours aventureros para ver a los animales. Este parque comenzó en 1949 como una atracción al lado de la carretera y creció rápidamente hasta ser un parque temático de 110 acres (44.5 hectáreas). Gatorland 14501 South Orange Blossom Trail Orlando, FL 32837 (800) 393-5297 http://www.gatorland.com/virtualtourspanish.php  
Blue Man Group
Si vas a ir a Universal Studios, entonces definitivamente deberías ir a ver a Blue Man Group por lo menos una vez. Cada presentación es diferente e incluso tienes la oportunidad de ser parte de ella al ser salpicado con pintura. El espectáculo es una forma única de entretenimiento que combina música, comedia y teatro multimedia para crear una presentación maravillosa para gente de todas las edades. Blue Man Group 6000 Universal Boulevard Orlando, FL 32819 (407) 258-3626 http://www.universalorlando.com/espanol/Vida-Nocturna/Blue-Man-Group.aspx
Mirar lanzamiento de cohetes
 A pesar de que se llevan a cabo a 80 kilómetros al este de Cabo Cañaveral, lanzamientos de cohetes todavía pueden ser vistos fácilmente desde cualquier lugar en el área metropolitana de Orlando , siempre que sea un día claro.
Aunque los transbordadores espaciales dejaron de volar en 2011, los lanzamientos de satélites y buques de suministro del sector privado a la Estación Espacial Internacional sigue funcionando.
Así que si estás fuera y de repente ves a la gente que mira hacia el cielo y señala, es probable que usted también pueda ser testigo de los destellos de fuego de los cohetes y las columnas de humo que dejan atrás.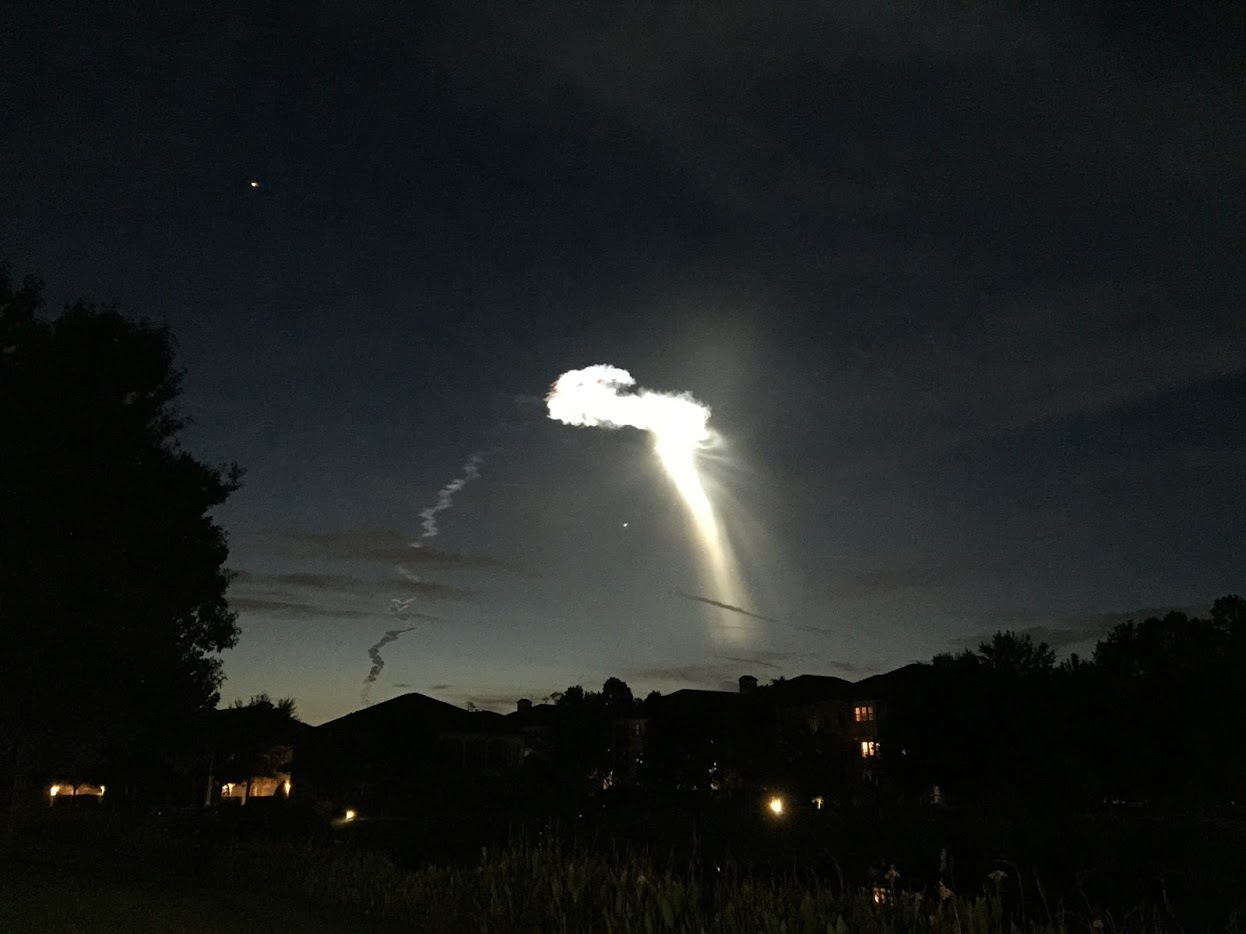 Cirque du Soleil
Si estás en Orlando, La Nouba de Cirque du Soleil es un espectáculo que no te puedes perder. Se encuentra en Downtown Disney y es popular en todas las edades. Este espectáculo se asegura de complacer y entretener a cada espectador. Las presentaciones se hacen a la noche, de martes a sábado, y las entradas pueden ser compradas con 6 meses de anticipación. La Nouba, Cirque du Soleil 1502 E. Buena Vista Drive Orlando, FL 32830 (407) 939-7600 http://www.cirquedusoleil.com/en/shows/lanouba/tickets/florida.aspx
 Disney Springs
Si vas a ver a Cirque du Soleil asegúrate de pasear por el resto de Downtown Disney, donde hay varios restaurantes y tiendas para comprar que están abiertos durante toda la noche. Hay más de 70 tiendas y diferentes lugares para comer desde restaurantes elegantes hasta lugares de comida rápida. Incluso hay un McDonald's. También hay un completo de cines y un parque temático interactivo techado de Disney. Downtown Disney 1502 E Buena Vista Dr Orlando, FL 32830 (407) 827-8500 http://disneyworld.disney.go.com/es/things-to-do/downtown-disney/
 Wonderworks
Si prefieres tener una experiencia interactiva, entonces Wonderworks es el lugar perfecto para ti. Es parecido al museo Ripley's Believe It or Not, pero en vez de ser virtual, todas las exposiciones son interactivas. Hay más de 100 exposiciones para toda la familia. También puedes comprar entradas para una cena y un espectáculo de magia. Las afueras del lugar están dadas vuelta completamente . Wonderworks 9067 International Dr Orlando, FL 32819 (407) 351-8800 http://www.wonderworksonline.com
 El complejo I-Drive 360
Tiene tres atracciones: The Orlando Eye, el Museo de Cera de Madame Tussauds y el SEA Life Aquarium. The Orlando Eye es una enorme rueda de observación desde donde cualquier cosa que veas de la ciudad te parecerá miniatura. Y es que la rueda, similar a la famosa London Eye te elevará a 400 pies de alto en un viaje que durará 20 minutos En el Museo de Cera de Madame Tussauds, tendrás un encuentro cercano con las estrellas, hechas tan exactas que te será difícil creer que no son reales, al igual que las hay en otros museos de la empresa. Podes encontrar a Ricky Martin tendrá su estatua de cera, entre otras personalidades deportivas, artísticas e históricas como Selena Gomez, Michael Jackson y Martin Luther King.
 El SEA LIFE Orlando completa el trío de atracciones en el I-Drive 360, y es un acuario que ocupa un espacio de 25,000 pies cuadrados y cuenta con más de 5,000 criaturas marinas.
Eventos deportivos y conciertos en el Amway Center
El renovado Amway Center en el centro de Orlando es sede de varios eventos deportivos, como torneos universitarios de baloncesto, juegos de la NBA, pruebas olímpicas, lucha libre, lucha ultimate, deportes de motor y monta de toros. El Amway Center es también una parada común para una serie de conciertos y espectáculos sobre hielo. Hogar de los Magic de Orlando de la NBA y los Predators de la AFL Orlando, el Amway Center ofrece a los aficionados un Bar Budweiser y patio de comidas, Castillo Mágico para niños y Club Restaurant. Diseñado para satisfacer las necesidades de los visitantes, el centro cuenta con 20.000 cómodos asientos con líneas de visión óptima y amenidades en cada planta del edificio. Se ofrecen alojamientos premium en forma de suites que cuentan con servicios de concierge y cocina de primera calidad. Amway Center 400 West Church St. Orlando, FL 32801 407-440-7000 amwaycenter.com
Campamento en Turkey Lake Park
Para los amantes de la naturaleza que visitan Orlando, Turkey Lake Park, situado a lo largo de las costas de Turkey Lake, ofrece un santuario de 300 acres (121 ha) para ir de picnic, caminatas, ciclismo y camping. En octubre de 2010, el parque ofrecía cabinas con una capacidad de 10 personas por US$35 la noche y sitios para tráileres y casas rodantes por US$15 por noche. Los sitios incluyen agua, electricidad y conexiones de alcantarillado que se proporcionan por un cargo adicional. Los sitios primitivos costaban US$7 por tienda y todos los sitios incluían asadores y mesas de picnic. Los campistas pueden disfrutar de un parque infantil situado al otro lado del parque, muelle de pesca, playas, senderos naturales, senderos para bicicletas y una amplia piscina. El alquiler de barcos también estaba disponible para la pesca en Turkey Lake, a un costo de US$15. Turkey Lake Park 3401 Hiawassee Hwy Orlando, FL 32835 407-299-5581
http://www.cityoforlando.net/parks/bill-frederick-park-turkey-lake/
Orlando Science Center
Los cuatro pisos del Orlando Science Center cuentan con cientos de exposiciones, un teatro con cúpula para espectáculos de planetario, cafetería, tienda de regalos y un observatorio. Las exposiciones en el Orlando Science Center ofrece experiencias de aprendizaje práctico en los campos de las ciencias naturales y la tecnología. Para mejorar la experiencia de aprendizaje de los alumnos en ciencias y matemáticas, el centro organiza excursiones, campamentos de verano, programas fuera del sitio, escuelas en casa y programas de scouts. En octubre de 2010, los precios de admisión para el Orlando Science Center fueron de US$17 para adultos, US$12 para los jóvenes y US$16 para adultos mayores y estudiantes con una identificación. Orlando Science Center 777 East Princeton Street Orlando, FL 32803 407-514-2000 osc.org
Visita el Mall at Millenia
No es un centro comercial típico, el Mall at Millenia ofrece diversos servicios, además de sus 150 tiendas. El centro comercial cuenta con una Oficina de Correos de EE. UU. y una Currency Exchange International, que vende y compra la moneda de 80 países. The Mall at Millenia contiene tiendas, desde grandes almacenes como Macy y Bloomingdale a tiendas de muebles para el hogar como Pottery Barn, Williams Sonoma. El centro comercial también atrae a visitantes de todo el mundo por sus tiendas internacionales. The Mall at Millenia 4200 Conroy Road Orlando, FL 32839 407-363-3555 mallatmillenia.com
La lista es interminable, les dejo algunas direcciones con "extras" para hacer fuera de los parques temáticos
Air Florida Helicopters, Inc. – 8990 International Drive, Orlando,
Florida Albin Polasek Museum & Sculpture Gardens – 633 Osceola Avenue, Winter Park,
Florida Aquatica – International Drive, Orlando,
Florida Amway Center – 400 West Church Street – Suite 200 Orlando, Florida 32801 *****
Atlanta Braves Spring Training – Disney's Wide World of Sports Complex, Lake Buena Vista, Florida
Bonanza Golf – 7761 West Highway 192, Kissimmee,
Florida Central Florida Railroad Museum – Winter Garden,
Florida Charles Hosmer Morse Museum of American Art – 445 Park Avenue, Winter Park, Florida
Cirque du Soleil La Nouba – Downtown Disney West Side, Lake Buena Vista, Florida Coco Key Beach Resort – 7400 International Drive, Orlando, Fl
Congo River Adventure Golf – 6312 International Drive, Orlando,
Florida Cornell Fine Arts Museum – Rollins College, 1000 Holt Avenue, Winter Park, Florida
Dave & Busters – International Drive, Orlando, Fl. Discovery Cove – 6000 Discovery Cove Way, Orlando, Florida
Disney's Fantasia Gardens Miniature Golf Course – Walt Disney World Resort, Lake Buena Vista,
Disney's Winter Summerland Miniature Golf Course – Walt Disney World Resort, Lake Buena Vista,
DisneyQuest Indoor Interactive Theme Park – Downtown Disney West Side, Lake Buena Vista, Florida
Fantasy Surf – 5151 King Heath Road, Kissimmee, Florida*****
Florida Audubon Society's Center for Birds of Prey – Maitland, Florida Forever Florida – 4755 North Kenansville Road, St. Cloud, Florida
Fun Spot Action Park – 5551 Del Verde Way, Orlando, Florida
G-Force Drag Racing – 2850 Florida Plaza Boulevard, Kissimmee, Florida
Gatorland – 14501 South Orange Blossom Trail, Orlando, Florida
Green Meadows Petting Farm – 1368 South Poinciana Boulevard, Kissimmee, Florida
Harry P. Leu Gardens – 1920 North Forest Avenue, Orlando, Florida
Hawaiian Rumble Adventure Golf – 8969 International Drive, Orlando, Florida
Holy Land Experience – 4655 Vineland Road, Orlando, Florida
Houston Astros Spring Training – 1000 Bill Beck Boulevard, Kissimmee, Florida
International Trolley & Train – 8990 International Drive, Orlando, Florida Jesus Film Project – 100 Lake Hart Drive, Orlando, Florida
Kissimmee Ghost & History Tour – Kissimmee, Florida
Kissimmee Go Karts – Marker 13, Highway 192, Kissimmee, Florida
Legoland Florida – Winter Haven, Florida. ¡ 
Lil' 500 Go-Karts – 150 Atlantic Drive, Fern Park, Florida
Magical Midway – 7001 International Drive, Orlando, Florida
Maitland Art Center – 231 West Packwood Avenue, Maitland, Florida
Maitland Historical Museum & Telephone Museum – 221 West Packwood Avenue, Maitland, Florida
M*A*S*H Helicopter Flights – 231 North Hoagland Boulevard, Orlando, Florida
Mennello Museum of American Folk Art – 900 East Princeton Street, Orlando, Florida Monkey Joe's –
Artegon, 5250 International Drive, Orlando, Florida
Monument to the States – Kissimmee, Florida
MotorSports Museum of Orlando – 7342 International Drive, Orlando, Florida
Old Town – 5770 West Irlo Bronson Memorial Highway, Kissimmee, Florida
Orange County Regional History Center – 65 East Central Boulevard, Orlando, Florida
Orlando Brewing Tour – 1301 Atlanta Avenue, Orlando, Florida
Orlando Ghost Tours – Downtown Orlando, Florida
Orlando Helitours – 5519 West Highway 192, Kissimmee, Florida
Orlando Magic NBA Basketball – Amway Arena , 600 West Amelia Street, Orlando, Florida
Orlando Museum of Art – 2416 North Mills Avenue, Orlando, Florida
Orlando Science Center – 777 East Princeton Street, Orlando, Florida
Orlando Paddle Boarding – Wekiva Island, Orlando, Florida
Peabody Ducks – Pirate's Cove Adventure Golf – Crossroads Shopping Complex, Lake Buena Vista, Florida
Putting Edge – Festival Bay, 5250 International Drive, Orlando, Florida
Racin' Station – 6077 West Irlo Bronson Memorial Highway, Kissimmee, Florida
RDV Ice Skating – 8701 Maitland Summit Blvd, Orlando, FL 32810
Reptile World Serpentarium – St. Cloud, Florida
Ripley's Believe It Or Not! Orlando Odditorium – 8201 International Drive, Orlando, Florida
River Adventure Golf – 4535 West Irlo Bronson Memorial Highway, Kissimmee, Florida
The Shooting Gallery – 2911 West 39th Street, Orlando, Florida SkyCoaster – 2850 Florida
SkyVenture – 6805 Visitors Circle, Orlando, Florida
Slingshot -International Drive, Orlando, Florida
Tampa Bay Buccaneers Training Camp – Disney's Wide World of Sports Complex, Lake Buena Vista, Tiki
Island Adventure Golf – 7460 International Drive, Orlando, Florida
Titanic – The Experience – International Drive, Orlando, Florida
Wells' Built Museum of African American History & Culture – 511 West South Street, Orlando, Florida
Wet 'n Wild Water Park – 6200 International Drive, Orlando, Florida
Winter Park Scenic Boat Tour – 312 East Morse Boulevard, Winter Park, Florida
WonderWorks – 9067 International Drive, Orlando, Florida
WordSpring Discovery Center – 11221 John Wycliffe Boulevard, Orlando, Florida
Zora Neale Hurston National Museum of Fine Arts – 227 East Kennedy Boulevard, Eatonville, Florida